U.S. Digital Response (USDR)
Helping small businesses find loans in a crisis
I joined a pro bono, non-partisan team to redesign an online loan eligibility checker. It has since been used by Hawaii, California, New Jersey, and Pittsburgh and has reached over 50,000 small business owners in need.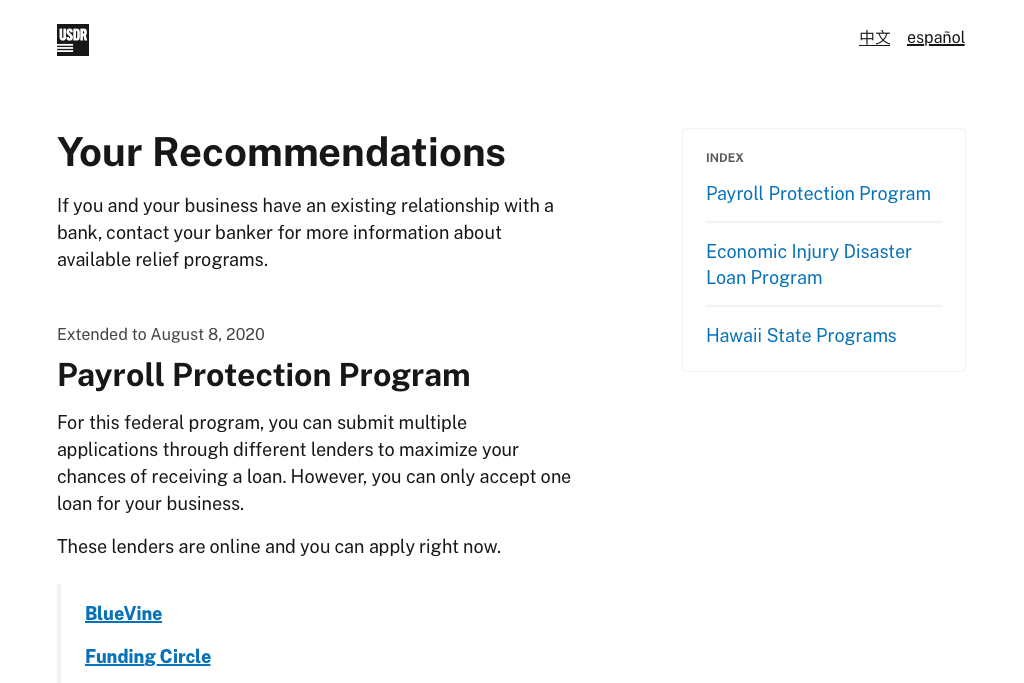 Overview and Goals
COVID-19 has made the flaws in our governments and societies more transparent than ever before.
As an employed East-Asian tech consultant, I have a secure income and even free time amidst a pandemic. I joined USDR (U.S. Digital Response) to redirect my privilege towards the service of others more deserving of its time.
I was brought onto the SMB Loans (Small Business Loans) team. Their mission? Help small business owners quickly understand which programs they qualify for and take the right steps to apply.
They had already made some quick and dirty progress in designing an eligibility form on behalf of the government of New Jersey, but needed some additional support.
I got caught up with the product manager, content writer, and lead designer. This helped me set two goals based on the team's research so far:
Reduce complexity. Long forms can discourage completion, financial jargon can create barriers to small business owners, and visual complexity can cause fatigue.
Improve flexibility and accessibility. Our team wanted to partner with new governments and users. Design changes needed to be robust and inclusive before attractive and modern.
One Thing Per Page
I suggested a transition to one thing per page. Rather than presenting all of the questions on only one page, switching to showing only one question per page would allow us to better achieve our design goals:
One thing per page reduces complexity. It reduces cognitive load, gives more visual and cognitive space to provide hints, eliminates the need to scroll, simplifies error validation, and creates a natural feeling of progression for the user.
One thing per page improves flexibility and accessibility. It allows for the easier branching of questions, is simpler for screen-reader users to use, complements mobile-first design, and opens the opportunity to track behavior at the question level.
One thing per page was universally well-received by the team as it made it easier for us to reach new government partners and small business owners.
Smarter and Faster Recommendations
Upon completing the form, a user would be provided recommendations on the results page. Ideally, we wanted this page to nudge users into taking steps towards financial assistance more confidently.
However, too much information was a barrier to this goal. Finding the right PPP provider from a large list was especially difficult for small businesses without an existing bank relationship.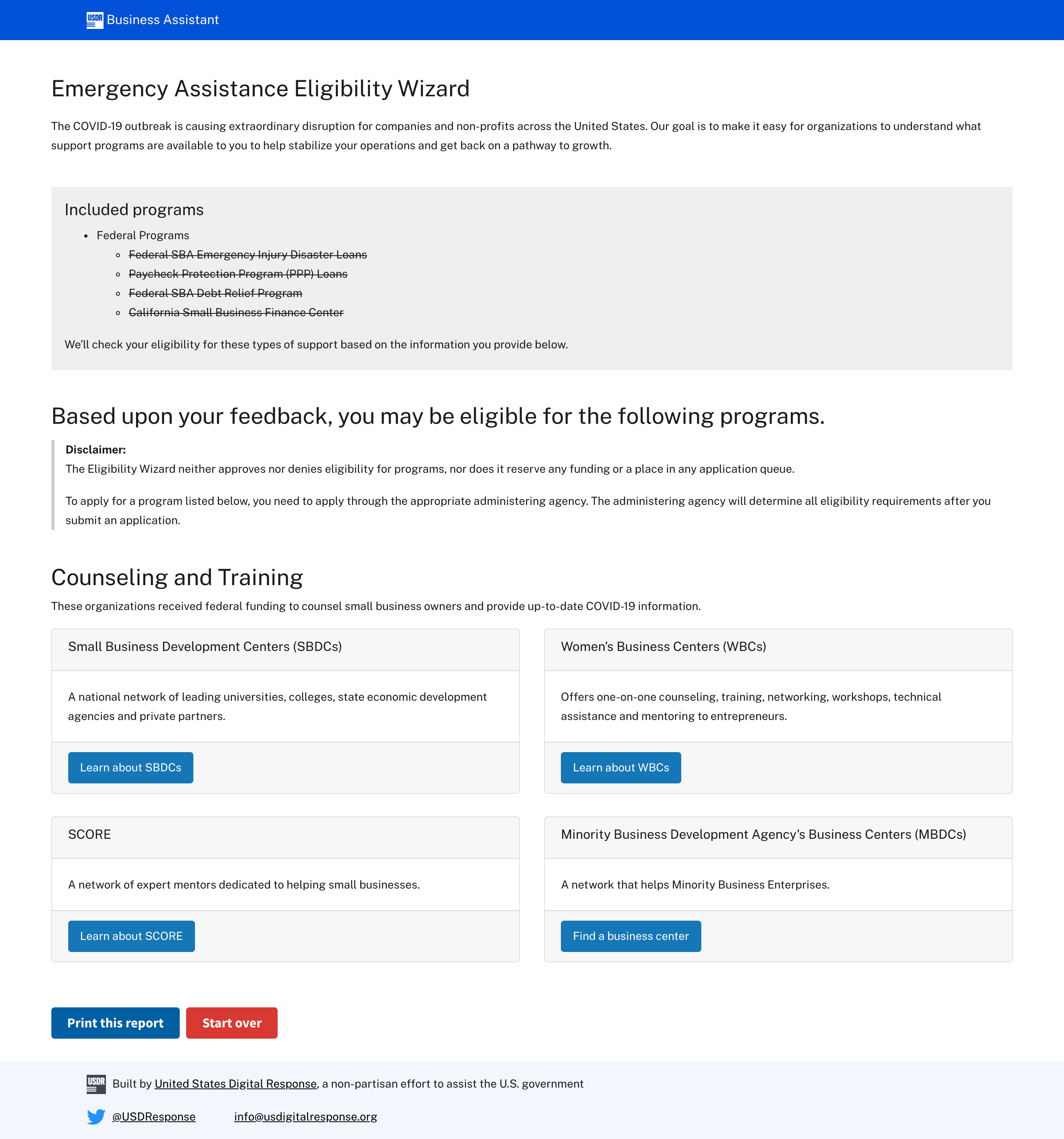 I worked with our content writer to conduct research in order to narrow down the PPP provider list to a select few online lenders. We placed this smaller list onto the results page along with plain, descriptive instructions in order to limit choice paralysis.
I also added a page index for users to be able to navigate through their recommendations more easily on mobile and desktop.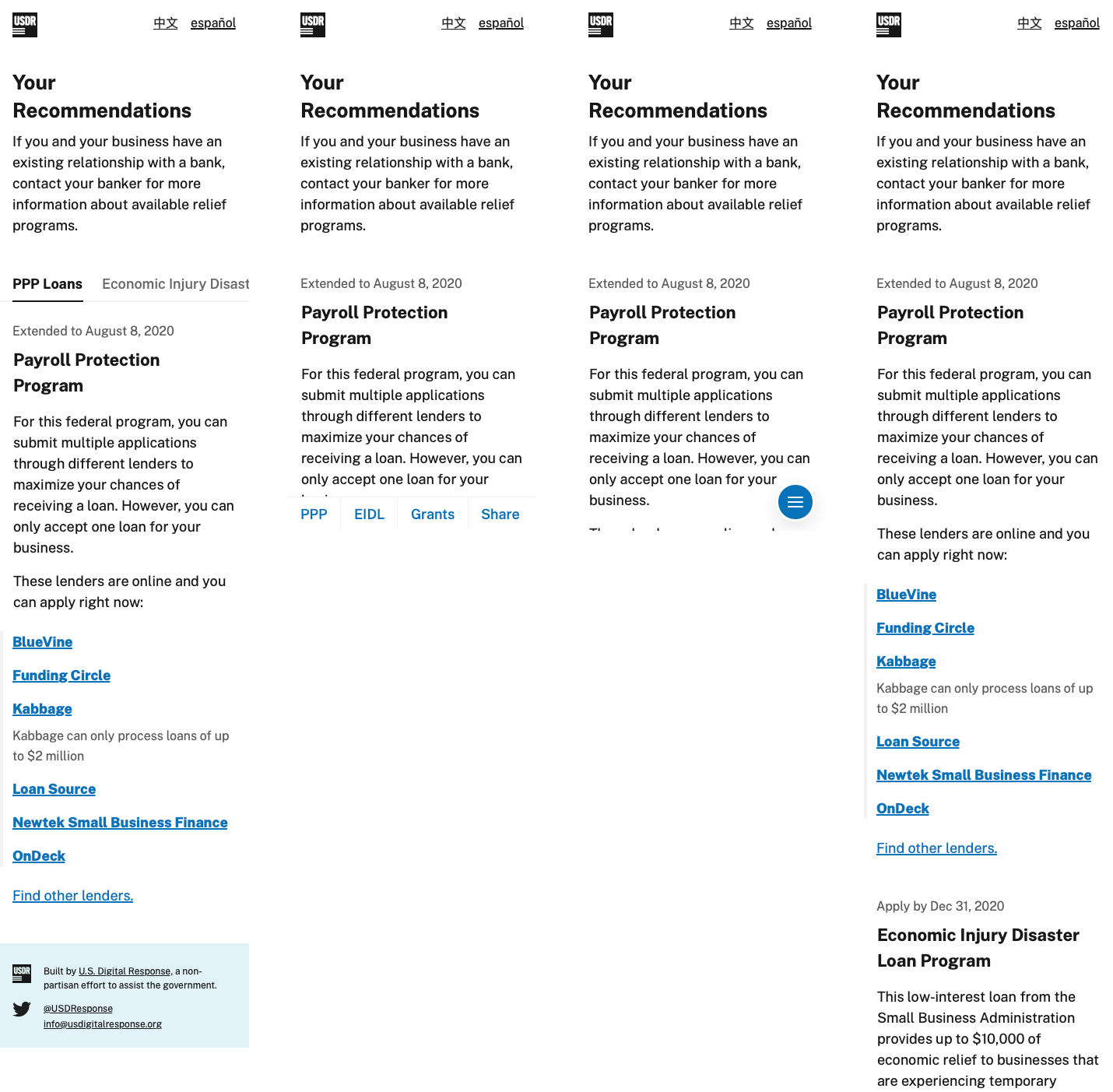 Other minor changes included left-aligning content into one column on desktop, reducing line width, simplifying language, and being more conservative with primary button usage.
A Simpler Navigation
The navigation went through many iterations before I had joined the project. These iterations included a link to a government partnership page, a link to a list of PPP providers, and a language selection dropdown.

However, having too much in our navigation posed the risk of users losing track of the flow mid-form. It didn't help that the navigation was a sharp blue too at one point.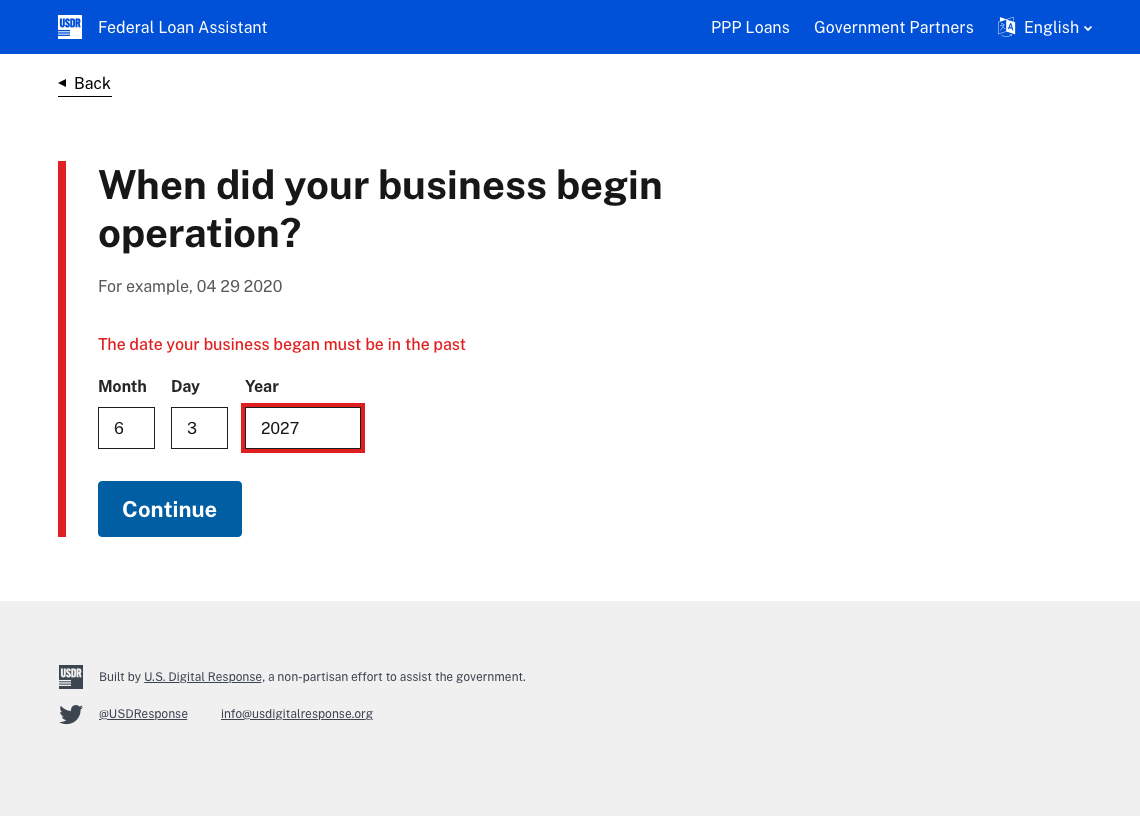 I started by removing the government partnership and PPP providers list links. Small business owners are not government partners, nor do they have the time to scroll through a massive list of PPP providers (we uncovered this through several interviews).
By removing these links, I was able to open up more space for the language selection. Dropdowns suck, so I pulled our options directly into the navbar itself. No need to rely on shitty "globe" icons if we can speak in the user's language immediately.
To build consistency and trust, I also suggested swapping the default USDR logo out with the local government's logo if a user accessed the form through one of our partner's websites.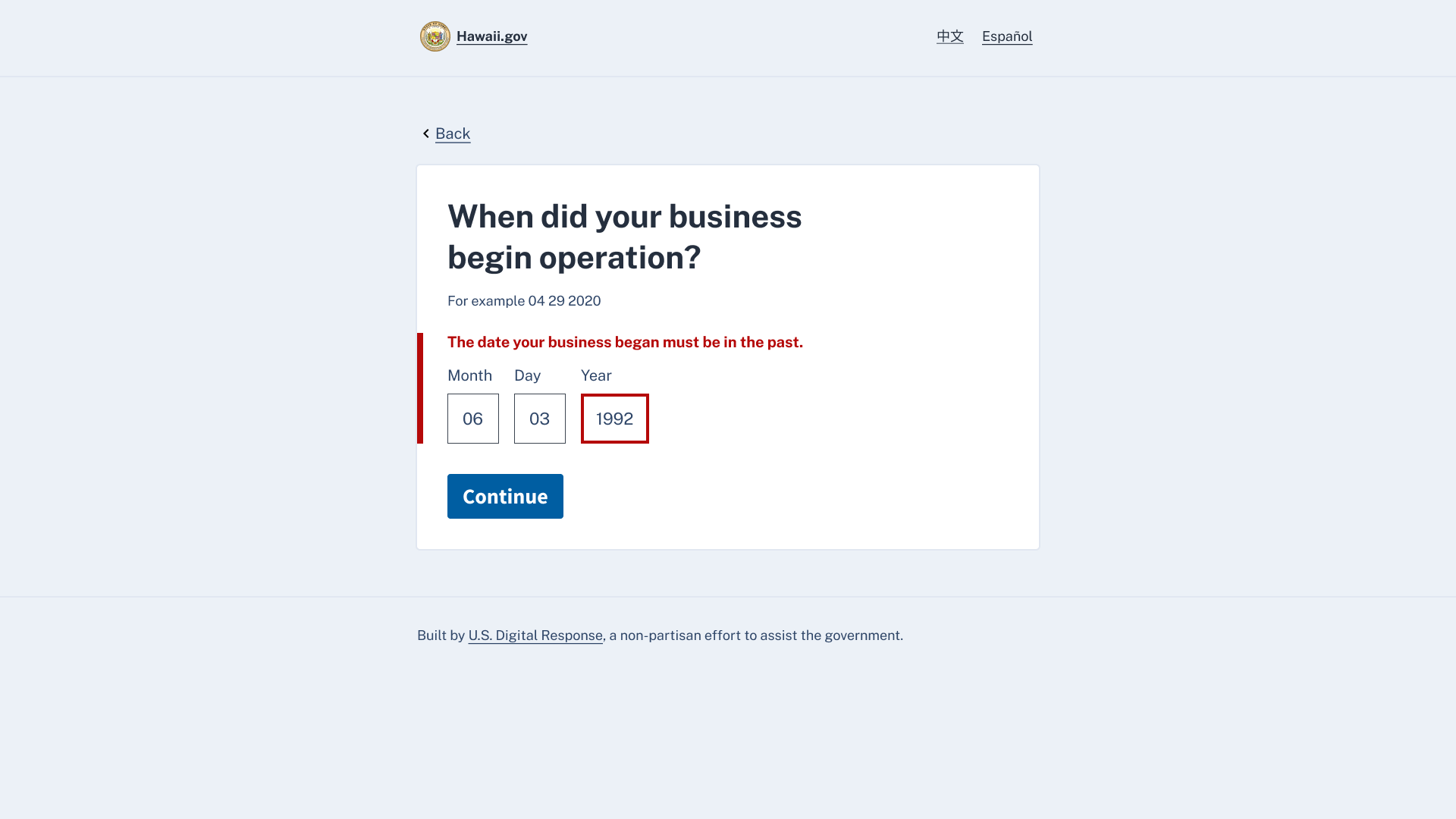 Conclusion
The last several months working with the SMB Loans team in my 5pm-9am hours has been truly rewarding. The pro bono volunteers I've collaborated with are among the most gracious and talented people I've ever met and the work never truly feels like work.
If you have the time and privilege to help, I hope that you can give pro bono work a try too. There are so many opportunities to do good in a time of so much pain and suffering.
Please help however you can.