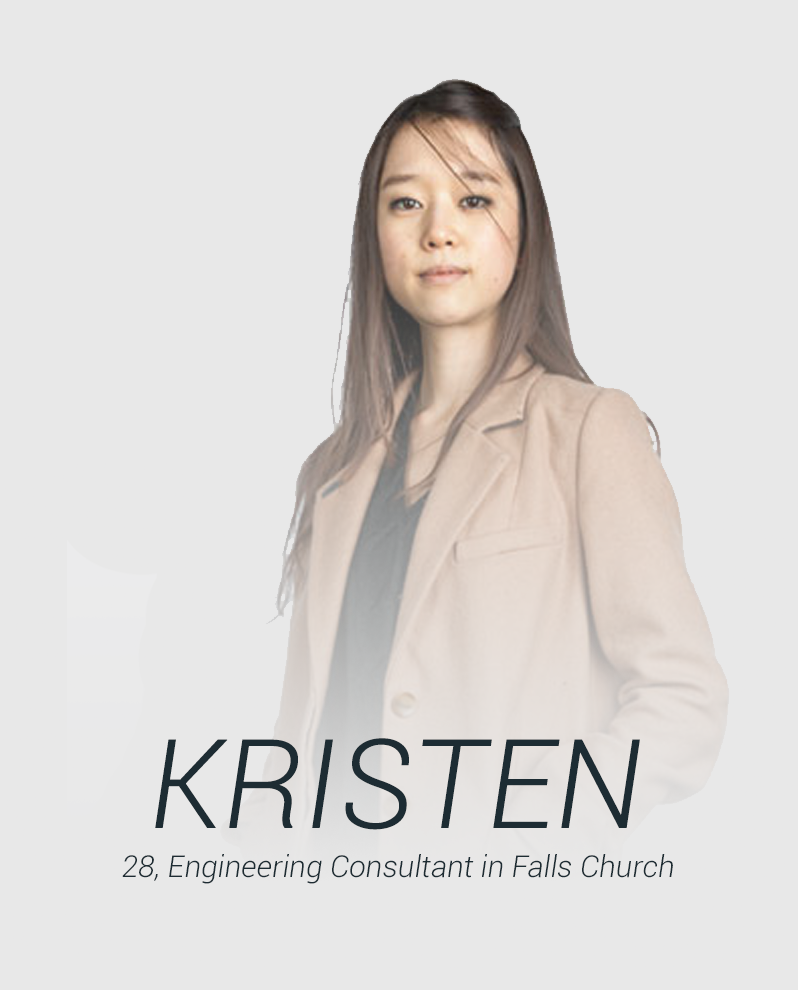 "I go to cafes after work to unwind. When I try to find a new place to go to I look for atmosphere and the coffee, not really the price."
Biography
---
Kristen moved to Falls Church as a consultant in a federal engineering contracting company located in Tysons Corner. Now that she has settled in, she is looking to find a new coffee shop to call her own and relax in after work. Kristen's perfect coffee shop would have plenty of space, some background noise, good aesthetics, and a friendly atmosphere with good coffee. Quality is more important to Kristen than the price, so she is more than happy to pay extra for a non-starbucks local brew. As she has enough to stress about at work, Kristen just wants to be able to sit down and read a book for an hour or two away from the hustle of her busy career. Outside of cafes, Kristen enjoys traveling to new countries and cities to explore and experience new cultures and moments.
Goals
---
I want to be able to find a local cafe to unwind at after a stressful day
I want to drink good coffee that's made with care
I want to get away as far away from work as I can
I want to feel like I'm at home
Frustrations
---
Crowded and noisy settings
Non-friendly service
Feeling rushed or pressured to leave
Average, generic coffee
Behaviors
---
When looking for a new cafe, Kristen first checks pictures of the interior to determine if it's a good place to relax. She also likes knowing the menu to determine if the coffee is worth the visit.
Kristen uses instagram and will post from time to time. She is explorative and will visit a cafe if she sees a friend at a cool new spot.
Kristen sometimes has trouble deciding what to order, so she'll look through online reviews to see what is most popular at a cafe. If there's not enough information, she'll ask the baristas.
---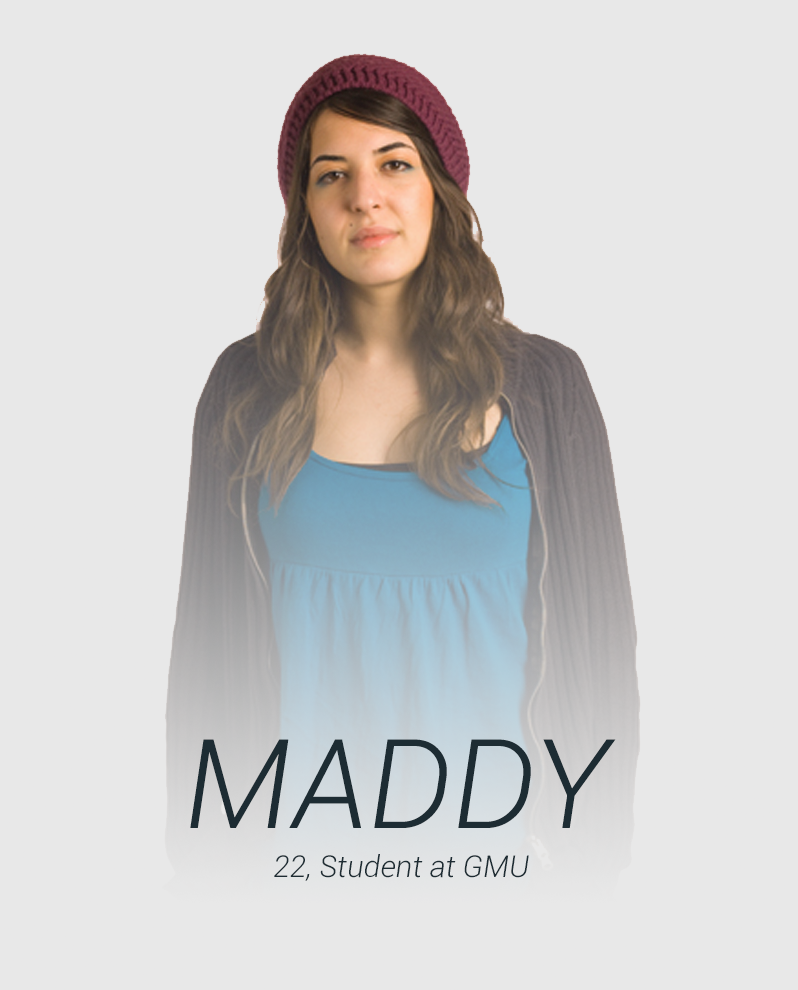 "There's no other place for a college student for me to come and just sit and do work for a couple hours. De Clieu is unique. I'm here often enough to know everyone, and knowing people makes a huge difference if I can say hi to the staff."
Biography
---
Maddy grew up in Northern Virginia, but only learned about De Clieu recently in her junior year of college when her project group decided to meet up somewhere off campus. She continued to come to the cafe for the background noise and coffee, but began making trips more often once the staff remembered her name and favorite orders. To Maddy, the atmosphere at De Clieu is everything- the employees, the people, and the music make the cafe something truly special in Fairfax. She will take her coffee to go if in a hurry, but prefers to stay for the atmosphere. Maddy likes ordering the honey charcoal latte and the seasonal specials while she studies on her macbook. She also will bring group project members and friends to the cafe to work together. In the future Maddy hopes to graduate with honors and get a job at a trendy marketing firm.
Goals
---
I want to sit down and finish up my project work
I want to feel unrushed in a comfortable, welcoming environment
I want to be able to meet up with my friends and group members
Frustrations
---
Bumping into people behind her while working
Not being able to plug into an outlet
De Clieu closing on a different schedule than listed online
Coffee at De Clieu can be more pricy then Starbucks
Behaviors
---
"Ghosts" on social media. Maddy will occasionally use insta stories/snapchat, but leaves all the posting work to the friends she follows.
When traveling to a new city, Maddy will target local hole in the wall cafes using yelp and google maps. She checks pictures of the inside and reads reviews before committing to going.
Maddy likes talking to the employees when they are more free. She has a better experience depending on the interaction.
Maddy studies with her macbook so she wants enough table space to comfortably complete her course work.
---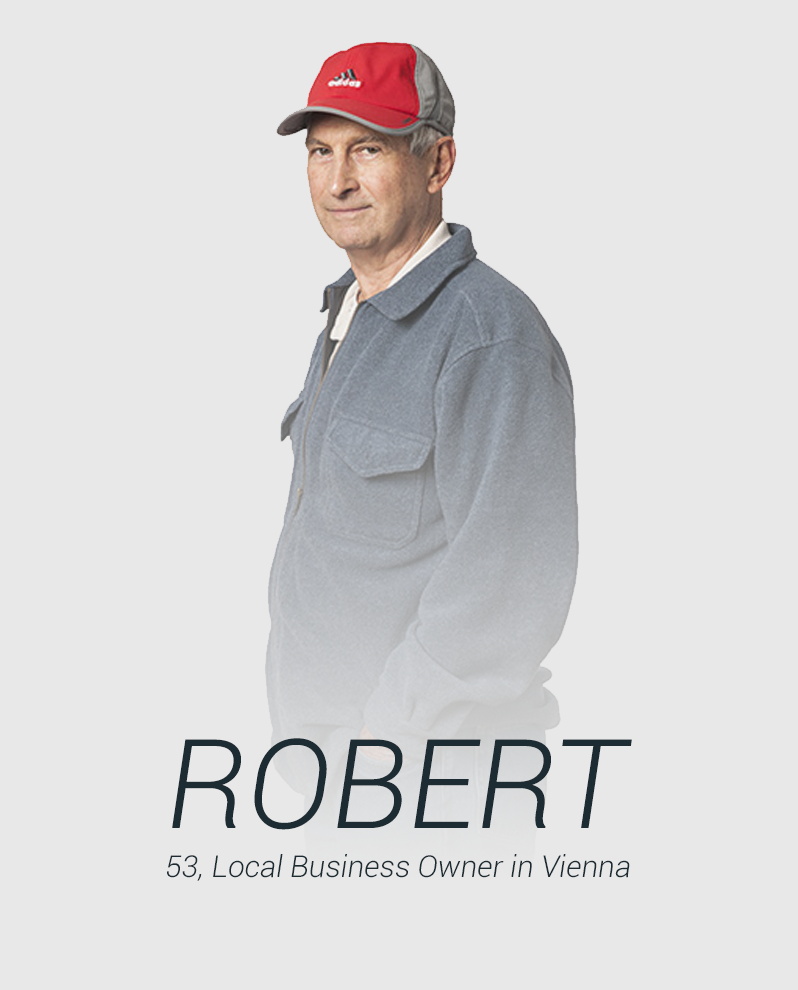 "Family owned and operated means the most. I can tell a cafe isn't commercial if I can talk to the servers and the people behind the counter."
Biography
---
Robert is a local business owner in Vienna. He knows how hard it is for local businesses to stay afloat, so he is passionate about supporting families that run them. Robert has been going to De Clieu for many years for this reason, but recently due to its popularity and crowds it's been harder to grab a seat. He is happily married, but struggles sometimes to find places to eat as she is vegetarian. Nothing is more important to Robert than a face to face conversation; he values the integrity of local word of mouth more than anything else. When he comes to De Clieu he likes ordering the lattes. Although he doesn't know much about the process, he trusts De Clieu will put in the extra effort to make sure his coffee is perfect. On the weekends he will often catch up with friends and co-workers at the cafe. Robert hopes to retire in the next ten years to spend more time with the people he loves.
Goals
---
I want to sit down comfortably and enjoy my food with friends
I want to support a local family business
I want to be able to say that I know the owner of the shop and his/her story
I want to have a connected and personalized, home away from home experience and atmosphere
Frustrations
---
Not being able to find a place to sit
College kids on computers taking up space for hours
Being interrupted
Coming to De Clieu only to see it is closed
Behaviors
---
Robert likes to sit by the windows to take in the atmosphere of the city.
When walking in a new town, Robert will ask people off the street where the best local spots are. He trusts local word of mouth more than anything else.
Robert will check the menus of new locations for vegetarian options on behalf of his wife.
Robert likes knowing hearing stories. He attends poetry nights and open mics at some locations to connect with others more.